PLEASE NOTE
Construction work in the Main Building
Thank you for your interest in our premises in the Main Building.
Due to the construction work that is necessary for implementing the fire safety concept required by the authorities in the Main Building of the University of Vienna, noise and dust as well as restricted accessibility are to be expected until the end of 2019.
Unfortunately, we cannot guarantee that your event will run smoothly. We recommend that you do not hold an event in the Main Building during periods of construction work.
We appreciate your understanding and look forward to assisting you in your search for alternative premises at the University of Vienna.
Further information, which will give you an overview of the planned construction work, is available at:
https://rrm.univie.ac.at/services/projekte/brandschutz-hauptgebaeude/
The Main Building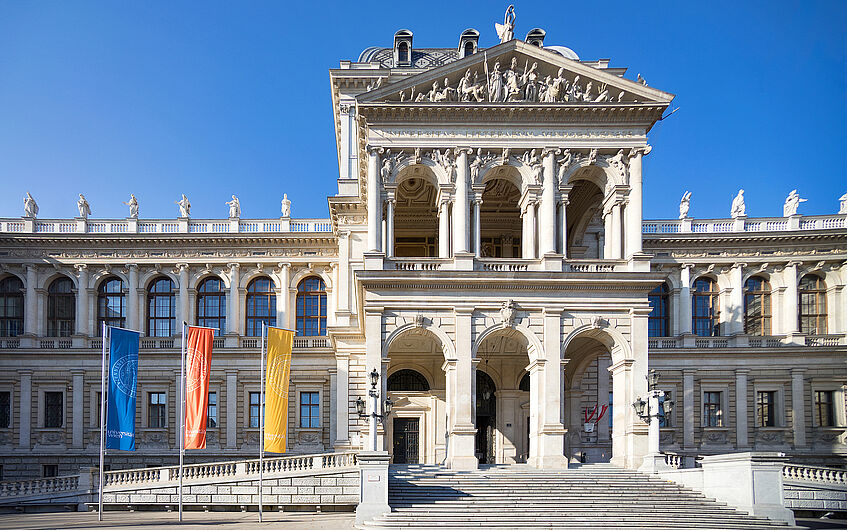 Located within Vienna's historic centre, directly on Vienna's Ringstrasse boulevard, the Main Building of the University of Vienna is easy to reach. The building, designed by Heinrich Ferstel, was built Italian Renaissance style and was inaugurated in 1884. In the heart of the Main Building is the green Arcaded Courtyard. In the middle of the Courtyard, you can find the Castalia fountain, which is surrounded by the Arcaded Courtyard's walkways with their numerous busts and monuments. Several event rooms as well as a wide range of lecture halls offering a unique and historical university setting are available for events during periods when there are no classes or exams. Particularly noteworthy is the Auditorium Maximum, which is the largest lecture hall in Austria, with a capacity of 750 people
Available in periods when there are no classes or exams
Available in periods when there are no classes or exams